The first platforms were kicked off in 2018 and are now in their final year of implementation.
Clean Shipping Project Platform (CSHIPP) is a consortium bringing together representatives of seven projects which look at the shared topic of clean shipping from somewhat different angles. While some of the projects have focused on the technical side of sustainable shipping or on the potential in alternative fuels, others have explored the concrete environmental impacts of waterborne transportation. In CSHIPP, the aim is to synthesise the findings of these individual projects and the expertise of the partners to produce and provide information on two key topics which are important for the Baltic Sea region as a whole, i.e. the environmental impacts of shipping and the business potential in clean shipping.
CSHIPP partner meeting in Hamburg.
Bridging the gap between research, business and policy-making
So, how has the CSHIPP collaboration fared so far? The Baltic Sea region is already in many ways a front-runner in clean shipping activities. However, the gap between research, business and policy making can easily hinder further and faster development in the field. With this in mind, CSHIPP has targeted its activities at three key groups of actors in the field of clean shipping: research organisations, businesses/industry representatives and policy makers. The platform has brought these target groups together by organising an international conference and policy workshop for researchers, academics, and policy-makers, as well as a clean shipping financing workshop and a bunch of other workshops on related clean shipping topics for key stakeholders in both public and private sectors. COVID-19 situation allowing, there will also be another event focusing on the business potential in clean shipping closer to the summer.
Shipping & the Environment II conference in Gothenburg
Furthermore, CSHIPP collaboration has thus far resulted in three reports and infographs focusing on shipping's emissions to water, noise emissions from shipping and air pollution from shipping. These publications aim to synthesise research work from different projects in a way that makes it easier to access and understand even for those with less scientific background and expertise. In addition to the reports already available, CSHIPP partners are currently working together on various other publications, such as a best practice report on compliance control, an analysis of knowledge gaps, stakeholder needs and funding possibilities in science-to-policy networks, a report focusing on best practices in utilising research-to-business networks in the field of clean shipping, and a best practice manual on clean shipping financing.
In order to make information on shipping emissions easily available to policy-makers, authorities, scientists and other interested stakeholders, CSHIPP partners have established an online portal https://www.shipemissions.eu/ which serves as an inventory of data on shipping emissions and their impact on the Baltic Sea region. Furthermore, CSHIPP partners are working on a clean shipping e-platform which will function as an online dissemination and educational tool on clean shipping in the Baltic Sea region.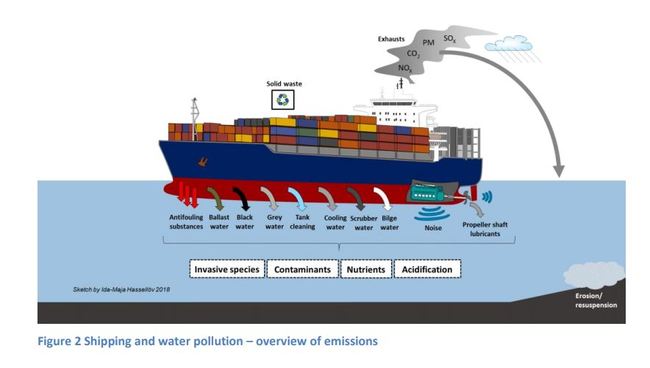 Illustration from CSHIPP report on emissions to water
For the benefit of the Baltic Sea region
The collaboration and objectives of CSHIPP have been guided by the EU Strategy for the Baltic Sea Region (EUSBSR) which functions as an essential framework for addressing common challenges and joint opportunities in the region. By embedding the platform activities and results in the EUSBSR framework, the partners strive to ensure that the activities of the Platform benefit the Baltic Sea region as a whole. In particular, the Platform is trying to contribute to the EUSBSR sub-objectives Clean and safe shipping, Good transport conditions and Improved global competitiveness of the Baltic Sea region. Associated partnership with EUSBSR Policy Areas "Ship" and "Transport" has made it possible for CSHIPP partners to engage in dialogue with relevant stakeholders and to share findings with key target group representatives in policy fields. Similarly, active partnership with Smartup Accelerator project partner Saint-Petersburg Cleantech Cluster has made it easier for CSHIPP to share results and exchange information with stakeholders in Russia.
At the moment of writing this, CSHIPP has approximately six months of active implementation left. These months will undoubtedly be busy as the partners do their best to tie up some loose ends and finalise the rest of the outputs. So far, this Platform collaboration has been an exciting and fruitful journey with relatively minor bumps along the way. Joining and integrating expertise from different but related fields seems to yield positive results and we are eager to see into what kind of directions could platform collaboration be developed in the future.